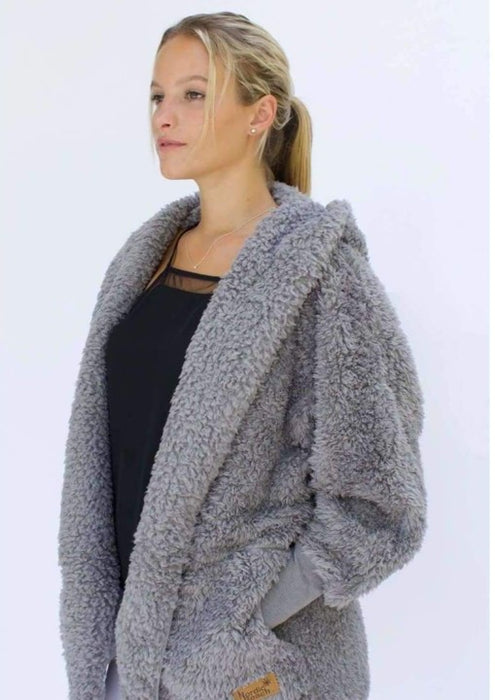 Nordic Beach Soft Cozy Body Wrap One Size
Original price
$85.00
-
Original price
$85.00
 These Nordic Beach Wraps are so soft & cozy you will want one of every color. 
Made from our light & fluffy cotton candy signature fabric. They are stunning to wear and will keep you comfy & cozy no matter where you are or what you're doing.
One size fits most
Open front design
Two hand pockets
Banded cuffs    
Made from our light & fluffy cotton candy signature fabric. The super soft 100%
micro poly is easy to care for.
Caring for and washing 



Thank You for making me a part of your life. Just know, I'll always be here to keep you comfy and cozy on cold & chilly days. Or just for a comforting hug whenever you may need one.

I would like to be around & looking my best for you as long as possible. Soooo if you wouldn't mind, I like to have a lint roller, preferably the kind with the strong adhesive, rolled over my entire body. It's really easy, just roll in one direction a few times & then in the opposite direction. This will help with keeping me fluffy & clean.

Oh BTW, I really do not get along very well with backpacks. They matt down my backside, so I hope you will avoid wearing them over me. I greatly appreciate that!

When it comes to washing me, please do so sparingly. I like cool water best in a gentle cycle with just a small amount of mild liquid detergent. When cycle is complete, remove from me from the washer. I will look like a matted mess but if you shake me out from both ends you will see me start to fluff back. Air dry until I'm about half dry & then place me in the dryer on low heat until I'm almost fully dry. The dryer will also help restore my fluff. But please keep the heat on low setting.

Thank You Sooooo Much!!! I look forward to keeping you comfy & cozy….
Every Nordic Beach body wrap will come with a free Nordic Beach tote bag
Sizing Guide 

 PreTeen Model For The Petite~ Height 4'10"
| | | |
| --- | --- | --- |
|  SIZE | ONE SIZE | PETITE |
| BACK(collar to hem) | 30" | 27" |
| HIP | 27" | 21" |
| Sleeve  | 26" | 22" |